On February 15, 2020 40 volunteers and staff from a number of agencies undertook the annual census of wetland birds around Te Waihora / Lake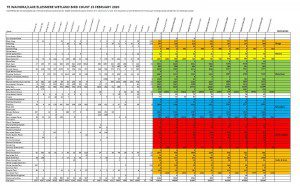 Ellesmere. The day started with drizzle but did clear to give a fine day albeit a strong wind.
This is the 7th consecutive year the survey has been carried out. Previous surveys have been coordinated by the Waihora Ellesmere Trust however this year Selwyn District Council took the lead through their biodiversity team with support from Trust.
This year over 48,029 birds were recorded around the lake – the  results table can be viewed here. Bird numbers were up from last year.
The table shows the birds counted in 2020 and for comparison, in columns to the right, the corresponding totals from 2014 – 2019.
Notable observations this year is that waterfowl made up over 77% of the birds counted with black swans and grey teal being the majority.  Numbers of both  species was up this year.  Of the waders Pied stilt numbers dropped dramatically from the high of last year.
Some of the rarer arctic waders spotted on the day where: a Turnstone, Sharp-tailed Sandpiper and a Curlew Sandpiper. Amongest the more common Bar-tailed Godwits was a Hudsonian Godwit. This species normally migrates from the Arctic to southern South America but occasionally a small number migrate in the wrong direction and end up in New Zealand.
For photos and information about each of the species visit the NZ Birds Online website.