For WET, education covers all the activities of the Trust that seek to increase awareness of Te Waihora/Lake Ellesmere, the values associated with it, and any lake related issues including the impacts of land use throughout the catchment.  It is much more than just our contact with formal education groups such as schools and university groups.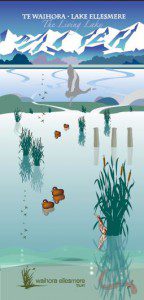 Our audience is the wider community, those who  live, work and play in the catchment, and also those from across Canterbury and further afield who visit the area. We have produced some general resources to help people to understand the lake and to find out where to visit and what you may find there. We have produced some resources for land managers and short videos, including one celebrating the success of local landholders at Harts Creek and Birdlings Brook.
Every second year we host a symposium – the Living Lake Symposium – to bring together people with an interest in the lake, to share information and to help inform decisions about management.
We maintain this website as a source of lake related information – let us know if there is a link or resource you think we should add. We also have a Facebook page where we post interesting media items, information about events, and other snippets of interest.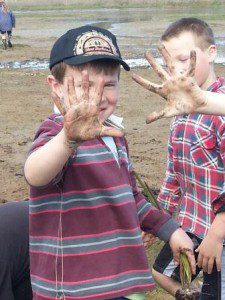 We're happy to come to talk to groups, including school groups, about the lake and related topics, to accompany a group on a trip to the lake, or we may be able to put you in touch with an expert on the subject you are particularly interested in.
It has been shown that children (and adults!) who are connected to nature will want to enjoy it and save it, now and in the future. And spending time in the natural environment is also great for everyone's physical and mental health and wellbeing. We'd love to see you out enjoying the lake, the wildlife, and the recreation opportunities – get in touch if you would like more information about Te Waihora/Lake Ellesmere.
Kids Discovery Plantout
WET is involved in the Kids Discovery Plantout project, which is a collaborative project led by Te Ara Kākāriki (TAK) and Enviroschools in Selwyn District. The aim is to make it easier for schools to incorporate conservation and biodiversity into the curriculum and to spark curiosity and inquiry in students through learning about the interconnectedness of a native ecosystem and its biodiversity values. Schools adopt a restoration project and develop an area which can be used as an outdoor classroom. These areas of native plants will also contribute to creating habitat for fauna and improving waterway health, including that of Te Waihora/Lake Ellesmere.
If you would like to find out more please contact the TAK Kids Discovery Plant-out Coordinator.
Useful resources
The Youth Engagement and Education Team at Environment Canterbury have produced some great resources and can also help schools with delivering programmes. They can assist teachers, students and community groups to learn about Canterbury's natural resources, and how best to look after and sustain them. They have a number of programmes and resource materials – all linked to the NZ Curriculum and all free!  Have a look at the sections on biodiversity and water for great information, ideas and activities.
The Department of Conservation also produces some great resources and activities for schools and other groups. Check out their website for more information. Have a look at the 'Awesome Eels' activity sheet – Te Waihora and is tributaries are home to the longfin eel or tuna.
Little River Rail Trail – visit the Little River Rail Trust's website to find out about the Christchurch to Little River Rail Trail, a cycleway and walkway that mostly follows the route of an old 19th century railway line between Hornby Junction and Little River via Prebbleton, Lincoln, Motukarara and Birdlings Flat. A long section of the Trail will take you along the shore of Te Waihora/Lake Ellesmere and you will see an amazing range of birdlife. Check out their activity sheets. The Rail Trail is also a destination for DOC's Kiwi Guardians – find their adventure map here.